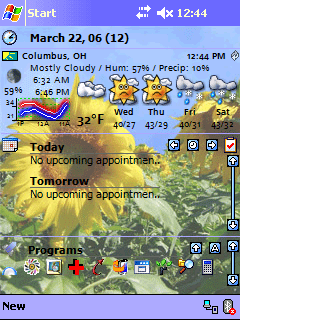 Multiple Views
Using Dashboard is like having 8 different Today pages on one device. Quickly and easily navigate through all your most important information.

Enhanced Themes
Dashboard is fully compatible with all Today Themes available. Additionally, using Dashboard Themes brings enhanced functionality such as the ability to have separate images for different times of the day and switch them automatically! Create your own Themes with our free Theme Creator.

Basic Functionality Included
The full version of Dashboard comes complete with the following plugins: Agenda/Tasks; Contacts; Mail; Launcher; Web/Search; Date/Time; Owner; Spacer; Use our plugins or use your own!

Use Your Existing Today Plugins*
Dashboard was not designed to replace or compete with existing Today plugins. Sure, we provide our own functionality for basic needs but that shouldn't limit you. We now offer a Mini version without any extra plugins for people who already have what they want.
.NET Support
Dashboard allows programs written in .NET to be made available direcly on the Today page of your device. Now you don't need to learn C++ to write a Today plugin!

Documentation
Full documentation on each plugin is available on our Dashboard Manuals Page